David Bowie – he was everything
This portrait has one layer of denim with pieces pushed closely together. The measure is 80x80cm.
All portraits are done in denim. I call it "denim art". I enjoy the transformation from a couple of old jeans to contemporary art.  The portraits are meant to be recognisable to the viewer, and also express my creative interpretation of the person.
My motivation is to honour a great artist and my idealism about waste-issues and consumerism.
My story
I got lucky in London in the mid 80's. I found a special record by David Bowie. My collection was/is not impressive, but I kind of knew that this was me being lucky. I miss that – the visits to vinylshops.
And David Bowie  – I just loved everything about him. All of his changes through time, musically and personally. I totally accepted and captured it. His voice, his charm, his talent, his roles in movies, his videos, his opinions, his humility, pride and guts. I followed, I listened, I actually felt I understood him. I always felt like everyone were allowed to follow his journey in life. Maybe he found a good balance of coorperating with journalists and fans.  He was really an artist ahead of his time. He just left too early. I was not ready. I just hope he was.
I know I will be working on more portraits of David Bowie. Let's see how that works out.
"It's just rock'n roll with lipstick on" – John Lennon about David Bowies music.
David Bowie and denim
David Bowie liked clothes, and I think he enjoyed to change his style and attitude through clothes and haircuts. This photo is taken in 1976 by Andrew Kent. So cool.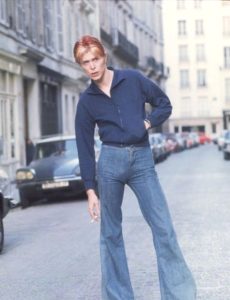 Short about David Bowie
Born David Robert Jones 1947.01.08. Passed away in New York 2016.01.10
Interested?
Please contact me for questions. +45 2093 3818 or kontakt@anettewarming.dk.