Phil Lynott – an awesome storyteller
(Custom made and not available for sale)
This portrait has one layer of denim with pieces pushed closely together. The measure is 80x80cm.
All portraits are done in denim. I call it "denim art". I enjoy the transformation from a couple of old jeans to contemporary art.  The portraits are meant to be recognisable to the viewer, and also express my creative interpretation of the person.
My motivation is to honour a great artist and my idealism about waste-issues and consumerism.
My story
Hearing Phil Lynott's voice for the first time was amazing. It happened in a record shop i Copenhagen. A new album from Thin Lizzy was just released. I knew nothing of them or of him. But the song "Mexican Blood" got me. I still love to listen to that particular song. It reminds me of myself discovering a hole new version of hard rock with a very poetic, sexy voice.
Creating this portrait has been a joy. He accomplished very much in a short life, and what an amazing wonderful person he was.
This year (2919) he could have turned 70. I am sure this will be celebrated many places all over Europe. One of them is in Copenhagen, Amager Bio on the 18th of October. 
Phil Lynott and denim
He was very much aware of his special looks, and in my opinion always looked very hot, not only in denim. This album cover is pretty cool though. Looks like a jeans commercial right?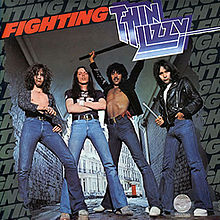 Short about Phil Lynott
Born Philip Paris Lynott 1949.08.20. Passed away in United Kingdom 1986.01.04
Interested?
Please contact me for questions. +45 2093 3818 or kontakt@anettewarming.dk.